A new generation of visionaries take collective action to address critical cybersecurity challenges
It has been almost a year in the making since the Cybersecurity Tech Accord, in partnership with the UN Office of Disarmament Affairs (UNODA), and Office of the UN Secretary-General's Envoy on Youth, announced the first-ever Apps 4 Digital Peace competition. Today, we couldn't be more pleased to present the winners for their new and innovative ideas that help limit the use of the internet as a domain of conflict and increase the stability of our online environment.
In total, Apps 4 Digital Peace awarded $30,000 to the top three winners. Among all submission entries from young innovators around the world, new ideas provided by teams, FSociety, Maktab, and Cyber Teens best reflected the competition's goal of finding technology-based solutions that:
Address existing and potential cyber threats
Ensure respect for international law in cyberspace
Ensure respect for human rights in cyberspace
Promote adherence to voluntary norms, rules and principles
Foster confidence building
We are thrilled by the number of Apps 4 Digital Peace contestants engaged in creating solutions that deliver a better, and safer online environment. This competition was a unique opportunity for young leaders and innovators to demonstrate their creative ideas that will help protect the internet of tomorrow. The Cybersecurity Tech Accord, UNODA, and Office of the UN Secretary-General's Envoy on Youth would like to thank all our contestants for participating in the first-ever Apps 4 Digital Peace competition. We hope this experience will continue to inspire and motivate bright, young minds around the rewarding work of finding solutions that address important cybersecurity challenges.
Meet First Place Winners: FSociety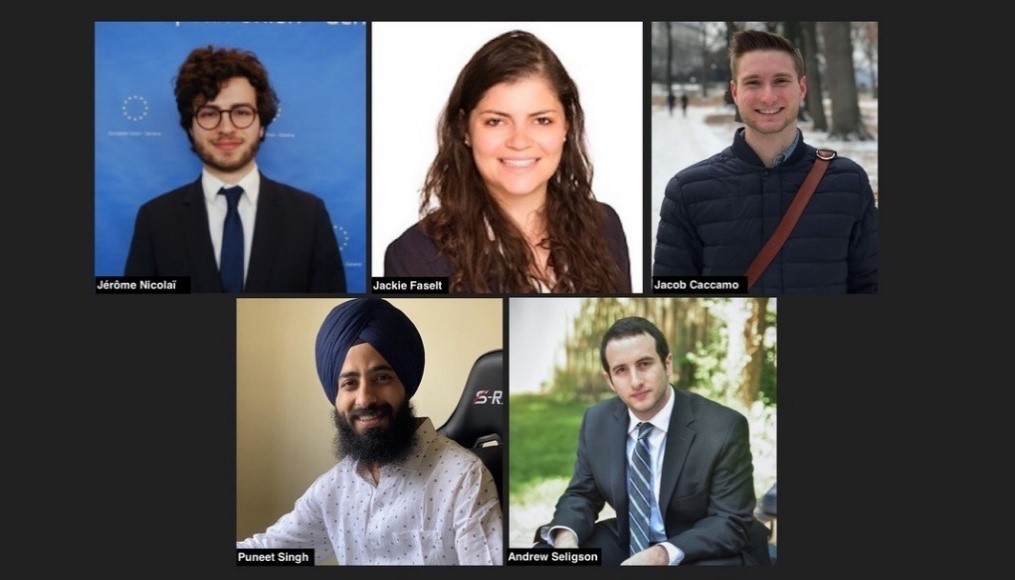 Team FSociety: Jérôme Nicolaï, Jackie Faselt, Jacob Caccamo, Puneet Singh, Andrew Seligson 
About the Platform
AllSafe is a community-driven platform created by FSociety to help users understand, monitor, mitigate and remediate cyber threats. Its purpose is to build capacity for small businesses, non-profits, activists, journalists, and others without specialized backgrounds to address cybersecurity issues. Through analysis of user data on profession and IT systems, the platform provides resources and in-depth information across three main components: monitor, action, and learn. The platform's "monitor" tab gives users a personalized threat intelligence dashboard, which identifies any potential cyber threats and provides in-depth information. If threats are detected, users are prompted to the "take action" feature, which provides steps on how to mitigate or remediate the danger. The "learn" component educates users about key cybersecurity concepts through curated information.
Q. What digital challenge does your project aim to address?
Our project aims to address the gap between the increasing sophistication of cyberattacks, and the range of vulnerable internet users who are central to the social fabric: investigative journalists, small business owners, and everyday users without professional technical experience.
Part of the responsibility of cybersecurity professionals is to communicate their findings to non-professionals. Much of the cybersecurity industry is highly specialized and does not prioritize the ability to effectively communicate highly technical material, but rather places security in the hands of a few, highly skilled individuals and firms. By democratizing access to ethical security practices, we believe that we can solve some of the dilemmas in cyber right now, ranging from social engineering to exploitative state behavior.
Q. Why did this issue spark your interest and make you want to find a solution?
We believe that addressing cybersecurity from this angle is of paramount importance, as these users represent key targets for malicious actors. We realized that cybersecurity was ill-understood by these users, and that they were ill-prepared to face cyberattacks. We were inspired by the development of other cyber threat intelligence platforms such as Open CTI, and we realized that we could make a difference by developing a platform that is understandable to users without a cybersecurity background.
Q. What immediate next steps do you envisage for the project? What will you do to make this idea take off?
We plan to build the platform in cooperation with our colleagues at Evolve Security, a firm based out of Chicago. For the back-end, we will first build out the API and data feeds into our AWS database, working with the sources we identified in our pitch to coordinate the sharing of threat intelligence data. For our front-end, we will work with Evolve Security to build out a customized front end in Kibana, maintaining the original vision of accessibility, availability, and interpretability. For the education component of the platform, we plan to create some original introductory level content, but primarily design a policy on the platform to integrate content from existing creators from YouTube and vetted online forums. Finally, we look forward to working with the UNODA and the Cybersecurity Tech Accord to get this platform into the hands of those without specialized cyber security experience who want to think proactively about their cyber defenses.
Meet Second Place Winners: Maktab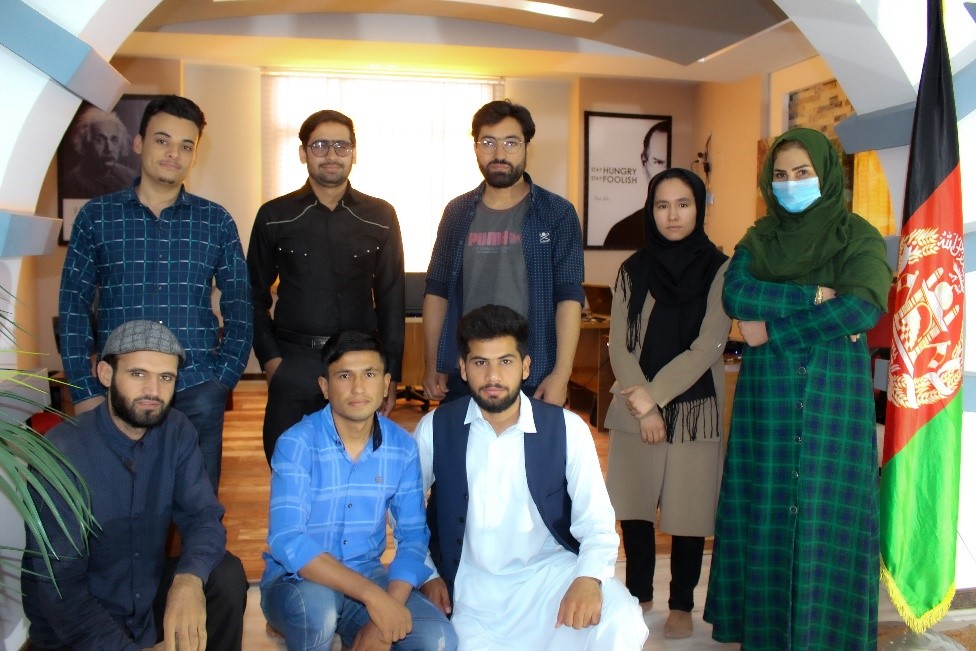 Team Maktab: Saifuddin Sepehr, Najia Sarwari, Fayeza Movahid, Khalid Ahmad Fazli, Ab. Nasir Farahi 
About the Platform
Maktab is a social awareness and e-learning platform that combines elements of social networking, emotional intelligence, and game theory to help students learn, share, and interact with their peers online. It aims to help more people, especially women, receive an education, as well as raise awareness about cybercrimes and cybersecurity issues. The app uses artificial intelligence to personalize content and blockchain technologies to keep user data private and secure. Since its inception, Maktab has helped 4,500 boys and girls find new learning opportunities. During the COVID-19 pandemic, more than 50,000 students used Maktab to continue their education online safely.
Q. What digital challenge does your project aim to address?
According to official reports, more than 7,500 cybercrime-related cases have happened in Afghanistan. Most of the victims are girls and/or people with limited or no information about online threats and cybersecurity. In a country such as Afghanistan where around 70% of the population belongs to conservative or religious families, and most of the population has zero knowledge about cybercrime, and cybersecurity issues, using the internet and serving online is extremely dangerous and risky. The government doesn't have clear rules and policies yet, and they don't take any action against this challenge. Thousands of girls have fallen prey to online predators, thousands of others have been killed, rejected, or executed because someone else misused their accounts on their behalf.
Therefore, we started to build a platform where everyone, especially the youth of Afghanistan, can learn the challenges of an online environment while learning science and collaborating with their friends. We provide different awareness programs both for youths and their families that teach them how to stay safe while surfing online. We also promote the importance of education, the internet, and collaboration. Since July 2018, we have helped more than 4,500 girls go to school by convincing their mostly conservative families through our awareness programs. At Maktab, we regularly conduct and provide awareness and information activities and programs to address different challenges such as potential cyber threats and risks, human rights in the online environment, capacity building, and youth empowerment. We help them learn the necessary methods and ways to make sure they are safe while using different online websites and platforms.
Q. Why did this issue spark your interest and make you want to find a solution?
We found that many of our friends and other people with limited knowledge about cybercrime fell into the trap of being exploited. Their accounts, messages, and videos were used against them and because 95% of Afghanistan's population is extremely religious and conservative, these types of activities are completely unacceptable. Many girls have been killed by their families because they talked to an unknown boy or their photos have spread on the internet. We noticed that the government doesn't have a clear regulation for this and there are no awareness campaigns and programs to address these issues. On the other hand, we noticed that many girls belonging to conservative families are not allowed to go to school despite eagerly wanting to continue their studies. Therefore, we started building a solution to address the above issues.
Q. What immediate next steps do you envisage for the project? What will you do to make this idea take off?
We will immediately start working and collaborating with educational institutions in Afghanistan to promote the importance of education and help more students and youth, particularly girls, learn how to address potential cybercrime and cybersecurity-related issues. We will also seek incubations and skills training to help students understand and learn new worldwide and standard solutions, promote learnings among other users, and make them available for everyone in the country.
Meet Third Place Winners: Cyber Teens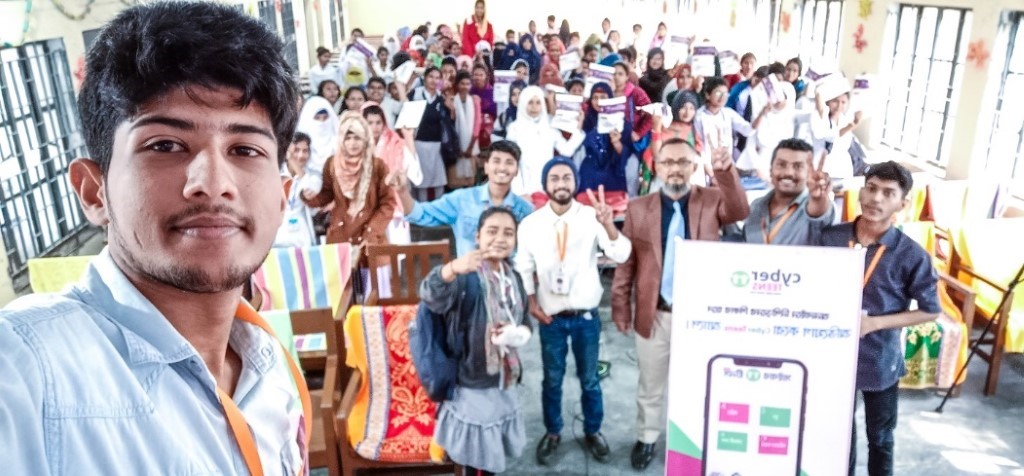 Team Cyber Teens: Sadat Rahman, Nayem Shikh, Azmayeen Akmal, Shafiqul Islam, Avik Chakrabortty 
About the Platform
Cyber Teens is an all-in-one mobile platform that helps teenagers fight cyberbullying. The application includes multiple features such as reporting complaints of cyberbullying and harassment, verification by cyber experts, and resolution in partnership with local police, administration and NGOs. Through their app, Cyber Teens has received 192 total complaints from teenagers, advised over 2,000 people and solved 139 cases.
Q: What digital challenge does your project aim to address?
About 49% of students in Bangladesh have been victims of cyber bullying in one way or another, revealing that young people are increasingly becoming vulnerable to such harassment. Some organizations are working on bringing awareness to this, but I think awareness and action are both needed. There are 100 million internet users in Bangladesh, and for a long time in our country boys and girls have been taking classes online. That means roughly one teenager in every family uses the Internet. When teenagers are victimized online, they often try to keep it a secret. They are afraid to tell their family or friends about it. Sometimes, the threat of bad actors can be so damaging that it can take the shape of not just cyberbullying, but cybercrime. There is no easy way for a teenager to ask for help or explain the problems of their online interactions to trusted people or police. As a result, teenagers sometimes stop attending school, suffer from depression, or experience guilt, encouraging drug taking and sometimes even suicide attempts.
Every single rumor spread online is working to destroy the peace of the society. With millions of websites on the Internet, people often do not understand which information is real or fake. You will be surprised to hear how many times the vaccine for coronavirus has been discovered in Bangladesh. These rumors are not just found in Bangladesh, but all over the world, and normal people have risked their lives by listening to the wrong information. We are both helping prevent cyber bullying and verifying false news through our app.
Q: Why did this issue spark your interest and make you want to find a solution?
Last year in August, a 15-year-old schoolgirl named Rukaiya Rupa committed suicide due to cyberbullying in the Pirojpur District of Bangladesh. When I saw this news on TV, it hurt and angered me greatly. So, I promised myself that I never wanted another teenager to commit suicide due to cyberbullying, and I wanted anyone who harassed or blackmailed teenagers online to be brought to justice.
Q. What immediate next steps do you envisage for the project? What will you do to make this idea take off?
Since we have already started to execute the idea in the field, we'd like to make the operations bigger with the newer plans we have. We are not professional app developers; we just redirected our web site with a few options in the app. Then we uploaded it to the Google Play Store so that teenagers can install the app easily. Our next step is to develop an Android & IOS app with all-in-one features for teenagers, and invest in publicity to reach all teenagers of the country because cyber bullying cannot be tackled just by apps. More awareness needs to be created.
We will only have succeeded if no one else files a complaint in our app, hopefully meaning no teenagers are harassed online.